Shandong Yuanyou Group Prosperous in Weifang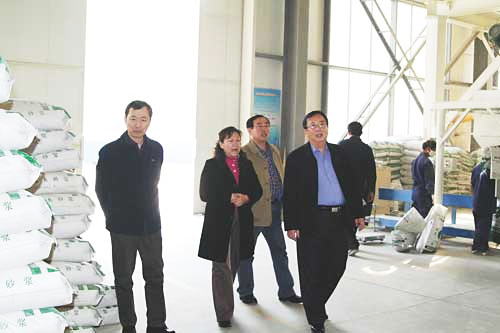 Li Jiajian(left) and Ding Jianyi(right) vist Yuanyou with the accompany of Lv Jianyuan(third from left), GM of Yuanyou
October 2009, the CBCA Manufacturing Base of light mortar product and equipment was established in Yuanyou Group, and also the expansion vitrified micro-bead light mortar manufacturing base. At present, Yuanyou Group has set up commercialization manufacturing base of research findings in Beijing, Sichuan, Henan, Zhejiang, Jiangsu, Guangdong, Anhui, Guangxi, Jiangxi, Hunan, etc. and Yuanyou products has been exported to over 20 countries in Asia, Europe and Americas like Germany, Czekh, Austria, Mongolia, etc. February 1, 2011, the local standard of "expansion vitrified micro-bead heat insulation and fire prevention mortar and mortar products" was put into effect which was mainly drew up by Xie Junde and Liu Weihua from Yuanyou Group. At the same time the common dry mortar products made by Yuanyou is also launched into market and achieved great success.
Shoulder the responsibility and repay Society
The development of Yuanyou Group depends on the social support and customers' confidence. As a private enterprise with billions of annual output value, Yuanyou will constantly bear the social responsibility and implement social obligation.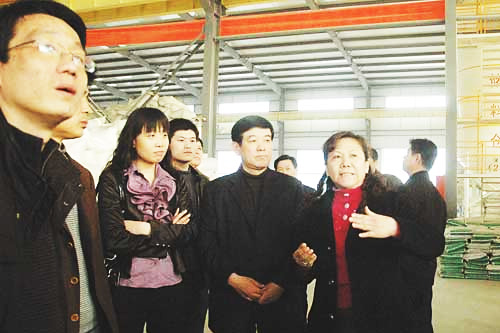 Wu Deyu (second from right, front row), Vice Dean of Shandong Bulk Office, visit Yuanyou Workshop
Since its inception, Yuanyou Group has donated over RMB 0.2 million to the first "Turnip Festival" of Weifang, "Yangjiabu Cultural Arts Festival", Charity Committee of Hanting District, Trade Union of Hanting District, etc. And Yuanyou has donated about RMB 80,000 for the development of education career. In 2008, the snow disaster and the Wenchuan Earthquake brought great loss and grief to the Chinese, and Yuanyou donated over RMB 0.3 million for the disaster relief. The company has donated more than RMB 1.8 million for the social welfare, and won good reputation.
Xie Junde, Board Chairman of Yuanyou Group, is very generous for the social welfare. He helped a born disabled child to get recovery and go to school. As the member of the standing committee of 11th CPPCC of Weifang City, he takes part in the political affairs to serve people better while managing the enterprise. He makes research in the communities, goes to the countryside to learn the farmers' life, and gets to know what the public cares most, so as to make benefits for the public. He goes all out for the harmonious of the society.

Return list
Print